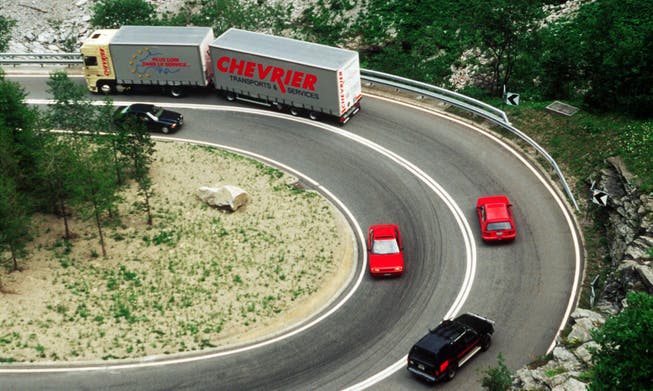 heavy traffic

"Ticking time bomb": Alpine initiative calls for an end to the transport of dangerous goods via the Simplon
The Alpine Initiative calls for an end to the transport of dangerous goods over the Simplon Pass. These should – like those of other Alpine passes – be moved to the railways.
The organization justifies its claim that the risks to people and the environment when transporting dangerous goods over the pass at around 2,000 meters above sea level are simply too great. "Supporters of the Alpine Initiative have lost patience with the Valais government," a statement said on Saturday. It is now time for the State Council of the mountain canton to put an end to the "unjustified privilege" of Valais industry and to ban transport like the other cantons.
During the general assembly of the Alpine Initiative in Martigny on the same day, its members adopted a corresponding resolution. The organization has also launched a petition to ban the transport of dangerous goods over the Simplon Pass. The concern of the Alpine Initiative is not new. For years she has been talking about a "ticking time bomb" in connection with the approximately 11,000 dangerous transports per year over the Simplon Pass. In addition, various requests have already been submitted to the Bundestag building.
As the Alpine Initiative then reports, National Councilor Regula Rytz (Greens/BE), who has just resigned, has also resigned from the board of the Alpine Initiative after nine years. In the meantime, the two national councilors of Bas-Valais Emmanuel Amoos (SP) and Christophe Clivaz (Greens) have been newly elected to the board of directors. (sat)