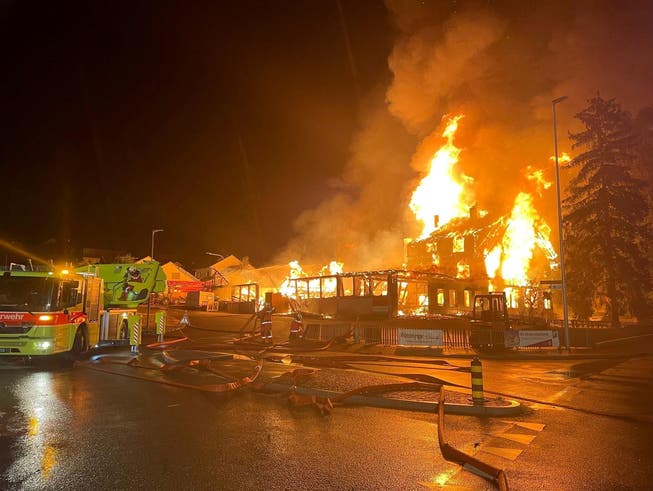 study

Fewer fire fatalities: Fire damage is decreasing, but natural damage is increasing
Thanks to fire protection regulations and prevention, the number of fires in Switzerland is falling. On the other hand, there is a greater threat of adversity from natural hazards, as a study by building insurance companies suggests.
A fire in your own four walls is a nightmare scenario. The results of a study by the Cantonal Building Insurance Association (VKG), which was published on Wednesday, are reassuring. It suggests that the number of fires, as well as fire-related deaths, has decreased significantly over the past thirty years. The figures are based on damage data from 19 cantonal building insurance companies, and the data on fatalities comes from all cantons.
According to the association, there are several reasons for the decline: On the one hand, the fire protection regulations that apply throughout Switzerland are having an effect. On the other hand, prevention is fruitful in fire prevention. Improvements in the fire service were also noticeable.
Arsons are rare, but result in large amounts of damage
The figures from the last thirty years show that if a fire does break out, the most common cause is a lightning strike – namely in almost two out of five cases. However, they only account for around a twentieth of the total damage. This is because, according to the VKG, indirect lightning strikes "generally only cause minor damage" and direct lightning strikes "often do not lead to a full fire, but only to mechanical damage".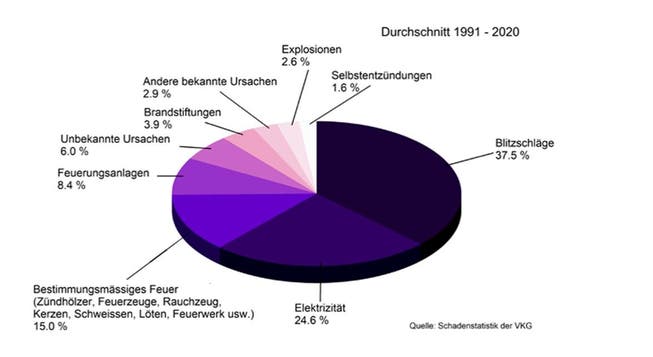 Exactly the opposite picture emerges in the case of arson. Although these are only responsible for every 25th fire, they usually result in large amounts of damage. Arsons make up almost 12 percent of the total damage. According to the Association of Cantonal Building Insurance Companies, arson is often aimed at causing as much damage as possible – especially in the case of intentional insurance fraud or the cover-up of other crimes.
Electronic devices (around a quarter of all cases) and fire products such as candles, matches or lighters (almost a sixth of all cases) are also frequent causes of fire. The latter are also responsible for a seasonality of falls during the cooler months from October to April. In addition, such fires are fatal above average: They are responsible for 30 percent of deaths. According to the VKG, this shows "how important educational campaigns are in addition to clever fire protection".
Natural damage has almost tripled since 1950
In contrast to fire damage, however, both the number of cases of damage and the amount of damage caused by natural hazards are increasing. As the VKG writes in the study, the so-called elementary damage has "repeatedly exceeded the fire damage in recent years". In the first decade of the 21st century, damage has almost tripled compared to the mid-20th century.
When it comes to the causes of natural damage, hail and flooding together account for almost four out of five claims. The remaining fifth is mainly due to storm damage; snow, slip and avalanche damage is rare.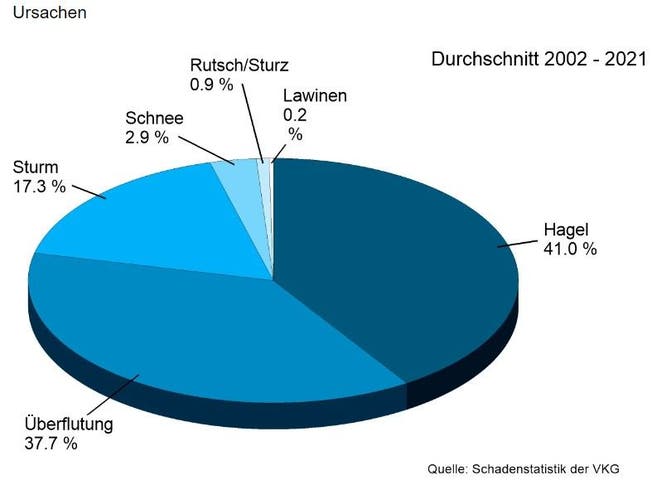 According to the VKG, there are various reasons for the increase in natural hazards. Certain damaging events such as hail or flooding occurred more frequently. In the storm summer of 2021, the total damage amounted to over one billion francs. In addition, "an increase in the vulnerability of buildings" must also be taken into account. There are concrete indications of this, particularly with regard to hail damage.
In addition, there is the dense population in Switzerland: This means that new construction projects "often have to be moved to areas that are more endangered by natural hazards". According to the VKG, people who live in such danger zones are "generally exposed to a higher risk of death". An attempt is being made to counteract this development by creating and implementing natural hazard maps and preventive measures.
However, this poses the challenge that different protective measures are also required against different natural hazards: "A building that is optimally protected against flooding is not necessarily insensitive to hail," as the VKG writes.
Damage development depends on building materials
With regard to forecasts of how the damage will develop in the future, the association of cantonal building insurance companies is cautious. The future damage to buildings would depend heavily on which components and materials are used in the buildings constructed at that time.
It is well known that extreme weather events will increase due to climate change. However, the influence of climate change with regard to storm damage cannot yet be isolated from other factors such as vulnerability, price increases, increases in value or the increase in land used, concludes the VKG.