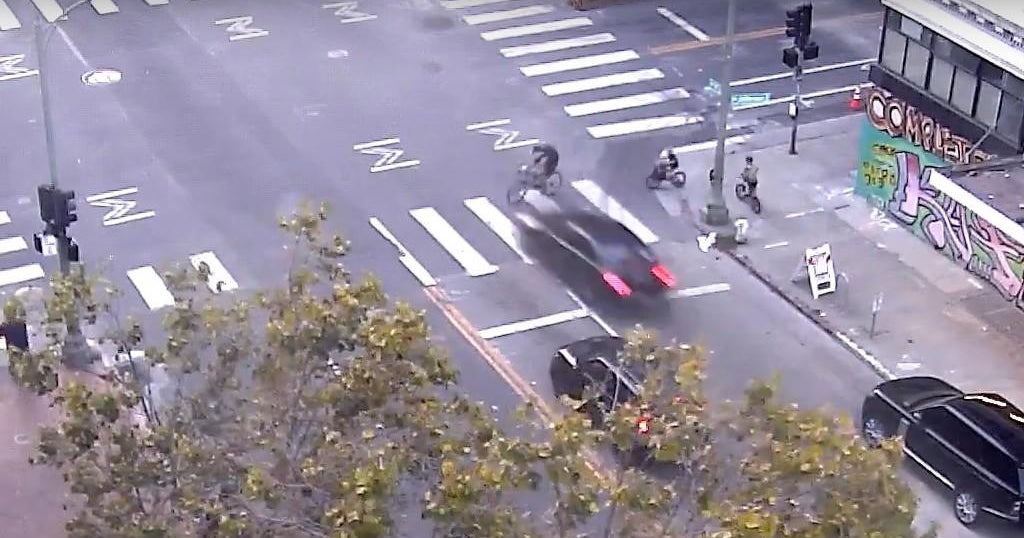 OAKLAND — Oakland police are asking for help in locating a suspected fatal hit-and-run driver who killed a man riding a bike with his children in the city's downtown area last week.
According to officers, the hit-and-run took place at the intersection of 14th and Jefferson streets around 8:30 p.m. on June 16.
Officers said the victim, identified as Dmitry Putilov, was trying to cross the intersection with his two children when a speeding driver hit Putilov. The driver did not stop and was last seen heading west toward Interstate 980.
Putilov was taken to hospital, where he succumbed to his injuries, police said. The victim's children were not physically injured.
At a Thursday afternoon news conference, Police Chief LeRonne Armstrong said Putilov and his children were deaf.
"The fact that he was deaf, I'm sure he couldn't have heard, obviously the speed at which that vehicle was going. His children are also deaf and so they were also unaware of the vehicle and the high speed he was driving at," Armstrong said. .
The leader went on to say, "It was safe for these people to ride their bikes, even though they were deaf. It was a matter of someone's insensitivity and someone's disregard for human life. and driving at an inappropriate speed anywhere in our city."
Armstrong also urged the driver to surrender.
"To the person driving that car, that you have caused tremendous hurt and harm to that family and to that community," Armstrong said. "We can't think it's all right, it's tragic. For two kids to see this happen is devastating for all of us."
Along with other parts of the Bay Area, Oakland is seeing an increase in road deaths. According to Armstrong, Oakland has seen 19 fatal crashes so far this year, compared to 13 this time last year.
For Imani Greer, the video of the fatal hit-and-run is something he can't get out of his mind. The collision happened right next to his restaurant, Roasted and Raw.
"Just devastating. Two boys, thank goodness they're alive and they're fine, but just sitting there and watching their dad lying in the street is just a heartbreaking story," Greer told KPIX 5. "I'm me -same dad and just to imagine taking your sons for a bike ride and not coming home."
Putilov was killed just days before the city council decided on the 14th Street safety project, which would repave the street, remove one lane of traffic in each direction, physically separate bike lanes from vehicle lanes and provide improvements to pedestrian safety, among other things.
The day after the hit-and-run, Oakland City Council member Sheng Thao took to social media to offer his sympathy to the man's loved ones and to urge action to improve the streets.
"The death on 14th Street was entirely preventable and speaks to the urgent need for projects like this," Thao said on Twitter. "No one should fear for their life while walking, cycling or driving on our streets."
Earlier this week, the council approved the project.
Police describe the suspect's vehicle as a black 4-door Infiniti, which reportedly sustained extensive front end damage as a result of the collision.
A reward of up to $10,000 is being offered by the Oakland Police and CrimeStoppers of Oakland for information leading to an arrest. Anyone with information is asked to call the department's Traffic Investigation Unit at 510-777-8570.
.