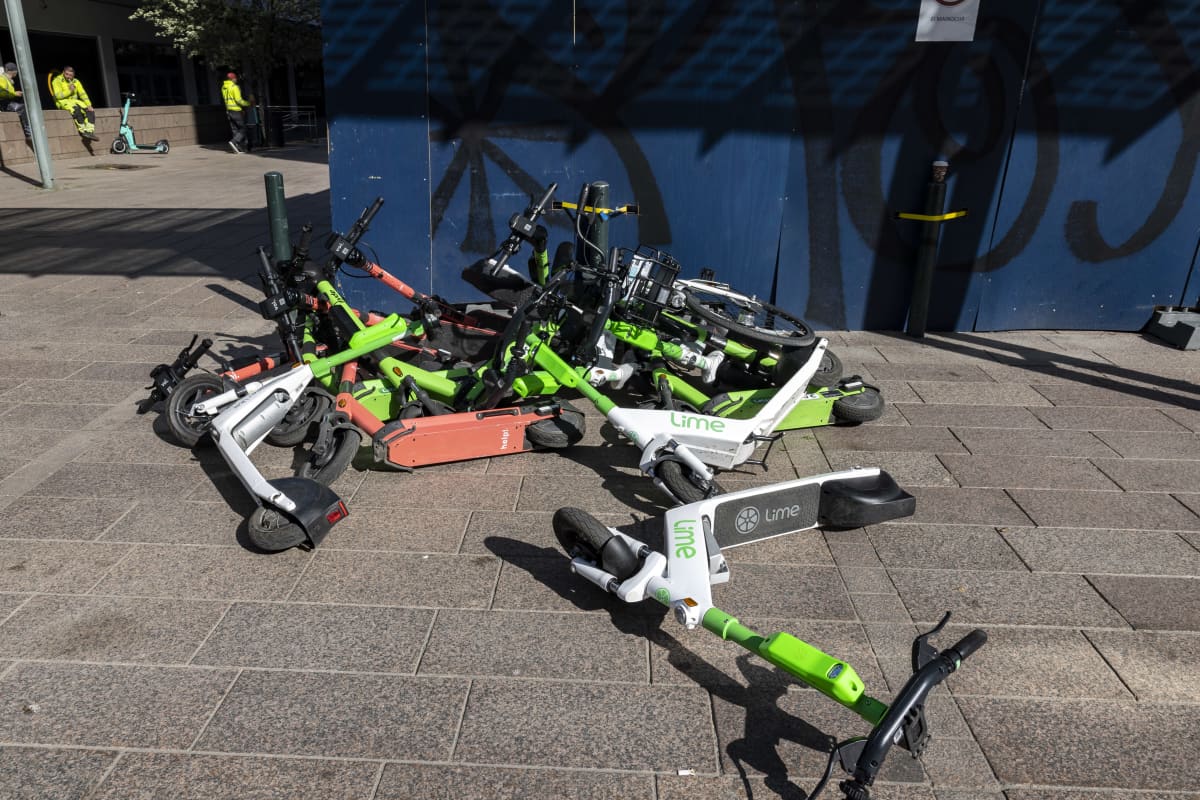 Scooter manufacturers cite successful models in other European cities.
Electric scooter rental companies Tier, Voi, Lime, Bird and Dott want legislation to tackle scooter chaos in central Helsinki.
The electric scooters left in the middle of the pedestrian walkways were a major annoyance during the summer. This is especially true for the visually impaired, for whom scooters make the urban environment considerably more difficult to navigate.
The Helsinki University Hospital District (HUS) recently reported that accidents involving electric scooters in Helsinki cost more than €1.7 million last year.
Licensing models used in other major European cities would limit the number of scooters and operators, according to scooter companies. In turn, this would help establish clear parking policies and safety rules.
"Cities first determined how many shared e-scooters they would like to have in the area. A public tender would then be held, in which the city would determine the criteria it will use to select service providers," they said. the companies said in a statement. joint press release.
According to the companies, this model has been used in Oslo, Copenhagen, London and Paris.
Insufficient voluntary agreements
Electric scooter companies have previously called for more regulation from authorities. Market congestion has led to serious problems and undermined the reputation of the best companies in the industry.
Tier, Voi, Lime, Bird and Dott claimed more than 11.7 million trips were made on their scooters last year, a total of 24 million kilometres.
"Current voluntary agreements are simply not good enough in the long term. Without changing the law, there is really no way to enforce compliance," the companies argued in their joint press release.
According to the companies, the city is not currently equipped to regulate the activities of e-scooter companies.
A licensing model would give the city the means to limit the number of electric scooters and impose stricter rules on issues such as parking and safety.
The companies claim that this approach has already been successful elsewhere in Europe.
Common rules have sought to address these issues
However, according to scooter companies, the situation in central Helsinki is no longer as difficult as it was last summer, although the number of scooters in the center has doubled.
The companies have jointly agreed on a number of measures to alleviate the current situation.
These include moving an unused scooter in one day, parking patrol, and requiring the user to take a picture of the scooter at the end of the ride.
In addition, the city of Helsinki has significantly increased the use of electric scooters. For example, in the city center, scooters stop in parking lots.
The government has started to consider setting alcohol limits for micro-mobility, which would include cyclists, personal electric vehicles (PEVs) and electric scooters for hire.