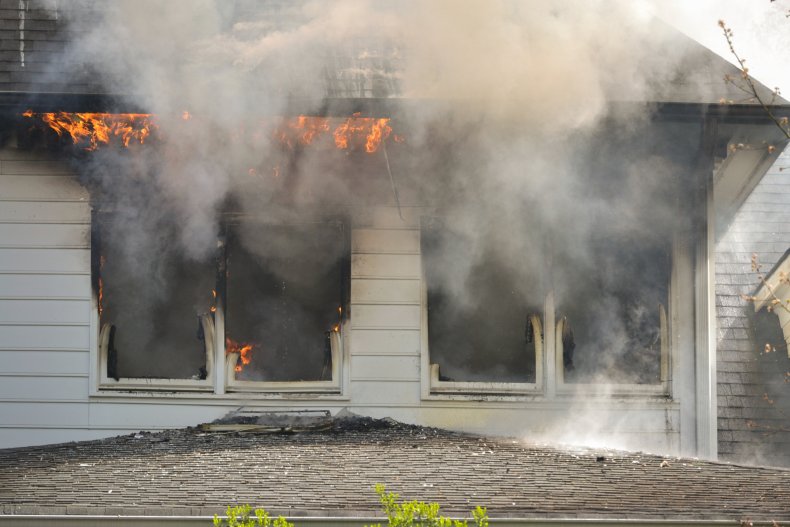 Responding to a call, a volunteer firefighter in rural Pennsylvania found his own family, including his children and grandchildren, trapped in a devastating house fire that destroyed the home and killed several people.
Nescopeck Volunteer Fire Co. firefighter Harold Baker described as: The voice of the citizen Wilkes-Barre newspaper was horrified to realize that the fire he was responding to had trapped members of his own family. Baker told the newspaper that the 10 victims of the fire were all related to him and he expected their remains to be recovered soon.
The fire broke out after 2:30 a.m. Friday in the small town of fewer than 2,000 in eastern Pennsylvania, the United States vote reported. It is not clear who owned the house and who lived there, but relatives told the newspaper that there was a gathering at the house and that children were sleeping.
Baker described being on the first engine to respond and how the crew had initially been given his neighbor's address, but soon realized the fire was at his relatives' address.
When he stopped at the house, he realized how serious the fire was and how firefighters tried to force their way in to save the residents, the newspaper said.
"We tried the front road, the back road," Baker told the… vote. "There was no way we could get in."
Baker described to the paper his feeling of helplessness, saying, "I couldn't get there to save them. That's my biggest thing that happened to me."
Pennsylvania State Police Lieutenant Derek Felsman told the paper that three bodies have been removed and more are expected to be executed once identified.
Authorities told WBRE-TV that seven adults and three children died in the fire, with victims ranging in age from 5 to 79 years old. Three other adults managed to get out of the fire.
"I've never seen anything burn so intensely," said Bernie Snedeker, who lives nearby, as he tackled the fire. Times leader. He said the flames hit the tops of the tall trees around the house.
Pennsylvania state police told the station the fire is under investigation, which they describe as "complex". Neighbors described hearing loud bangs to local media.
Baker told TSWT affiliate WNEP that he had family ties to all 14 people who stayed in the house and that he has not seen or heard from 10 of them.
"I also lost my son, my daughter, grandson, two other grandchildren, my father-in-law, my brother-in-law and my sister-in-law. All lost," he said.
Baker told the station that some family members just visited the house, which also had 13 dogs in the house. In addition to the three who escaped, another was on a newspaper route, Baker said.
News week has contacted Pennsylvania State Police for comment.