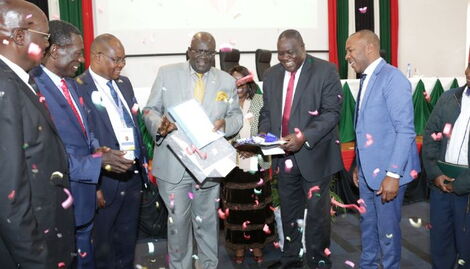 The government, through the Ministry of Education, has proposed implementing the National Education Management System (Nemis) primary school data system at universities across the country.
Currently, the government uses Nemis in primary and secondary education. A sister version called Higher Education Management System (Hemis) is currently under revision after it was proposed to use it at the tertiary level.
Hemis adoption was discussed at the first international annual conference at Cooperative University on Friday, September 23, where stakeholders will discuss better ways to improve university data management.
According to Dr. Shem Mbandu, assenior lecturer at the Co-operative University of Kenya, the proposed system (Higher Education System) in the university, promises to address challenges arising from inconsistent data sets held in a desperate database of multiple data agencies.
Education Cabinet Secretary Professor George Magoha (Center) at the launch of NEMIS on August 22, 2022
Twitter
Some of the challenges it seeks to address include the lack of a single point of truth by a college student, inadequate consolidated data, and repeated reporting to various agencies.
Kenya Universities and Colleges Central Placement Service (KUCCPS), Kenya National Bureau of Statistics (KNBS), Universities Funding Board (UFB) and Commission for University Education (CUE) are among the agencies that will benefit from the system.
"Hemis presents a single source of truth for all stakeholders by integrating with all agencies through secure communication protocols, student tracking and personnel data in the public, private universities and TVET institutions.
"Information sharing and data principles will support decision-making, strategy formulation and planning," the Ministry of Education said.
Meanwhile, used in primary and secondary education, Nemis is a web-based data management system that collects information from educational institutions and processes and reports the status of designed indicators to provide the industry with a foundation for effective management of schools.
The goal of Nemis is to help streamline data management for informed decision-making and planning in the education sector by hosting student/pupil data associated with a Unique Identifier that is randomly generated using a verifiable algorithm.
Data recorded on NEMIS is also used to pay out government fees, among other things.
"With its improved server infrastructure and improved system architecture, the system serves to enhance the user experience of our users," said CSMagoha.
"Through these processes, the Ministry and its stakeholders will be able to effectively access and monitor indicators to aid in their mandate and decision-making processes," he added.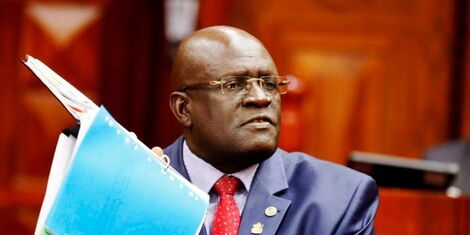 Education Cabinet Minister George Magoha during a previous meeting in parliament.
File