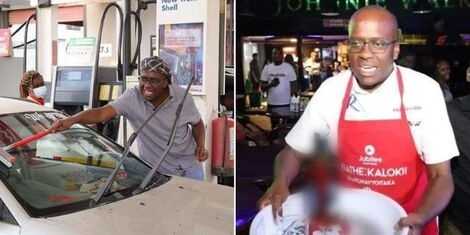 The Jubilee party gubernatorial candidate in Nairobi, Polycarp Igathe, has attributed his political ambitions to lessons he learned from his former boss – Mike Mbuvi Sonko.
Talk to TSWT.co.ke On Thursday, June 23, Igathe said he learned the dynamics of politics from the former governor of Nairobi despite the fallout which saw him step down in the first year of their administration.
He said the failure of their administration caused him to return to city politics to prove himself.
Nairobi gubernatorial aspirant Polycarp Igathe during his past campaigns in the city.
Case
"I graduated from Mike Sonko's Advanced Political Hindsight Institute. I learned something and I'm not fresh. You don't learn things from success, you learn things from failure. The latest times I failed and went to pull myself together and came back.
"I celebrate Mike Sonko for teaching me politics and bringing me to the political scene. He is my friend, not my enemy. I come to serve for five years. If I was a coward, I would have decided not to introduce myself," he said.
Additionally, he argued that he had to resign because he felt it would have been an injustice to the public if he continued to serve as Deputy Governor.
Igathe has expressed confidence in his bid for governor – saying he only wants to serve one term to prove himself to the people of Nairobi.
He also questioned the opinion polls which pinned him second in the race after his competitor Johnson Sakaja of the United Democratic Alliance (UDA).
"These polls are lies told by liar liars. I don't even read them because they are polls created by politicians to create perception. I'm a market researcher and it's a shame what's going on. The real poll is August 9 and they will be shocked We will win by over 1.2 million votes and we will wipe out the UDA," the business executive turned politician said.
Asked about his campaign tactics which have gone viral in recent months, he said the tactics weren't planned and a PR strategy, but rather a true reflection of who he was.
He said he always engaged with ordinary workers, even when he was the boss of big companies.
"That's the real me. When I worked in the bank, I worked in branches, when I ran a multinational oil marketing company, I was a gas station attendant and I sold sodas when I worked in the multinational beverage company. The perception is that a boss is someone who sits in a leather chair is wrong.A boss should be where the work is.
"People say Igathe has a very unique countryside. I'm just aiming for blue-collar labor which is the foundation of a town. A town is made up of waiters and waitresses. It's a cultural thing."