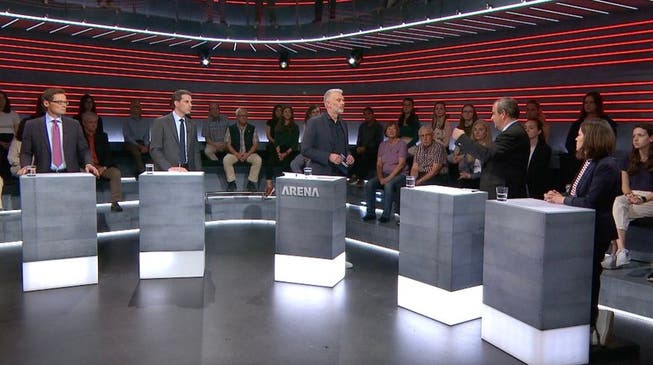 SRF on the war in Ukraine

"Dangerous story!" In the "Arena", Köppel and Pfister cross swords
After the discussion between SVP and SRF, SVP National Councilor Roger Köppel was welcomed back into the "Arena" after a long break. The group was able to avoid a scandal – only one person could not help but ignite something.
After three ballots, the focus was again on the Ukrainian war and Switzerland's role in the SRF "Arena". "Does Ukraine need Swiss weapons? discussed moderator Sandro Brotz in the elephant group with all the party presidents.
After a break of a year and a half, SVP national councilor Roger Köppel is again allowed behind the gray desk. Because SVP party chairman Marco Chiesa cannot be present, Köppel steps into the ring for him.
Anyone hoping for a scandal will wait in vain. Köppel and moderator Brotz are very friendly. We can talk about you, barely interrupts. However, you are not of the same opinion.
Contrary to usual, it is not the medium which tries to make the mediation between the left and the right. It is the center, in the form of party chairman Gerhard Pfister, whose opinion is polarizing. "Switzerland and our values ​​will be defended in the war in Ukraine," Pfister begins in his plea. That is why it has a political duty to deliver arms to Ukraine.
Not directly, but indirectly. Because Switzerland currently supplies war material mainly to Western democracies. The largest customer country is Germany. If Germany receives Swiss weapons, it can only pass them on to other countries if the Swiss government expressly consents to this. This is exactly where Pfister intends to start. "I don't see why they refuse this request, but deliver weapons directly to Saudi Arabia, where they know they will be used in a conflict. This is nonsense."
Mattea Meyer, co-chair of the SP, takes a deep breath: "In his video address to Switzerland, Ukrainian President Volodymyr Zelenskiy did not say to deliver weapons to us, but make sure you have your banks under control", bursts t -she. The most effective lever for Switzerland is its financial and banking centre. "We are the hub of Russian commodity trading. That's where you have to start."
Green President Balthasar Glättli agrees with Meyer: "If Mr. Pfister says that Switzerland will be defended in kyiv, then I have to say: Putin will be armed in Zug. Along with Geneva, it is the place where 80% of raw materials are traded.
"I just don't understand how my colleague Pfister just erases our whole tradition of neutrality with a tweet on a Sunday night"
That's not all. Glättli fires sharply at the centre's chairman: "I just don't understand how my colleague Pfister just wipes out our whole tradition of neutrality with a tweet on a Sunday night."
On the other political spectrum, in the extreme left-wing "Arena" studio, things are also bubbling. Appearance of National Councilor SVP Köppel: Switzerland must under no circumstances supply arms to a belligerent party. "We are throwing the law of neutrality out the window with this. It will only push us further into the war and no longer be perceived as neutral." You must not be a party to the war, "neither in the economy nor in the army".
He goes back and forth like that a few more times. Meyer and Glättli want to put an end to the oligarchs close to Putin, while Köppel wants to maintain neutrality at all costs. The GLP, representing Vice President Melanie Mettler, falls somewhere in between: "If we are in a world where wars of aggression are taking place against Europe, we have to take a stand. Neutrality is elastic."
As for the second half of the show, presenter Brotz insists on bringing Köppel out of his reserve.
"The West has made serious mistakes"
He addresses him on the front page of Weltwoche. "Putin, the misunderstood" was the title of the newspaper before the outbreak of the war. "Are you really serious about this?" Brotz wanted to know about Köppel. He replies calmly: "Putin is an aggressor, I have never denied it. But the West has made serious mistakes."
Then it quickly springs out of the middle. Pfister, almost as acerbic as on Twitter, fumes: "This narrative that the West has misunderstood Putin is very dangerous," he reproaches Köppel. "What you are insinuating, Mr. Köppel, simply gives the impression that you have certain sympathies for the Russian leadership."
Köppel does not want to hear anything about it. "It's still typical of this discussion. I'm the only one advocating neutrality, and since you don't want to talk about arms supply, you're taking any position on me now. Very imaginative." But before Pfister can fuel the discussion further, Brotz moves on to the final topic.
What to do with frozen Russian funds? Mayer speaks. Because if the SP succeeds, the reconstruction of Ukraine should be financed by the Putin regime. "If Russia doesn't want to pay for the reconstruction, you should take the sanctioned assets as prepayment," Meyer says.
And quickly, Köppel is caught in the next exchange of blows. This time with FDP President Thierry Burkart. But there is not enough time and Brotz steps in between. Probably relieved that the show went well on stage.