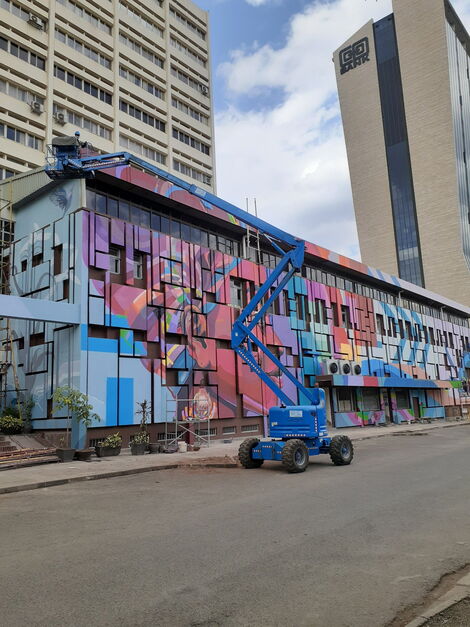 In recent years, murals have become a common phenomenon on the streets of Nairobi. The iconic painting of the Extelecoms house, in particular, dominated Haile Sellasie Avenue.
However, despite the increasing number of iconic paintings in the capital, little is known about the artist behind some of the paintings.
Unknown to many is the artist, Viktart Mwangi, to whom the artistry is attributed.
Mwangi is a 27 year old graduate of Kenyatta University with a passion for art. The KU graduate followed the Visual Arts and Design course.
Murals on the side of the ExTelecoms building on Haille Selassie Avenue
File
His talent is recognized worldwide and his expertise is tapped in countries such as Australia, Rwanda and Tanzania.
Mwangi's worldwide recognition is attributed to his 2020 artwork of the Extelecoms House, one of the largest works of art in East Africa and Africa.
"His colorful murals are developed from a combination of reality and fantasy, designed to stand out in the walls they are painted in," according to Center of Contemporary Artists on their website.
In addition to street art, the artist also makes murals in homes and schools. One of his famous school works is the transformation of the buildings of the St Kizito School for the Deaf in collaboration with the Central Bank of Kenya (CBK).
His excellent work at the institution received accolades from CBK boss Patrick Njoroge.
Murals on Extelcoms House cover all four sides of the building's base. Painted in bright colors, the murals tell the story of a nation and its dreams for a future.
"Then there's the fantastic job at St Kizito's Litein School for the Deaf, Kericho. The walls give visual excitement and motivation to the students. What a transformation! Thank you for making a difference!" he claimed.
Mwangi also has a photo book – "Shift + Ctr + VIKTRT" which shows some of his work. He states that he gets the motivation for his creative work from the impact his work creates.
"I've learned that effort is never wasted. That everything you pick up counts. I find myself thinking that everything I've learned so far has prepared me for this moment, every time I run into an obstacle.
"I took a step back and looked at myself. I've learned that I'm happiest when I'm doing what I love. My job gives me purpose. It distracts me from reality. When I have nothing to do, start I burst," he declared.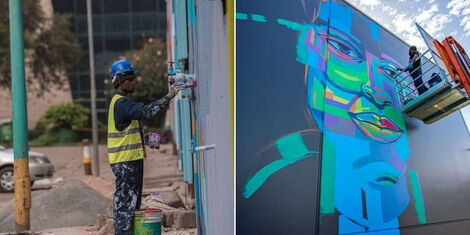 A collage image of Viktart Mwangi working on a street mural.
Instagram
Viktart Mwangic