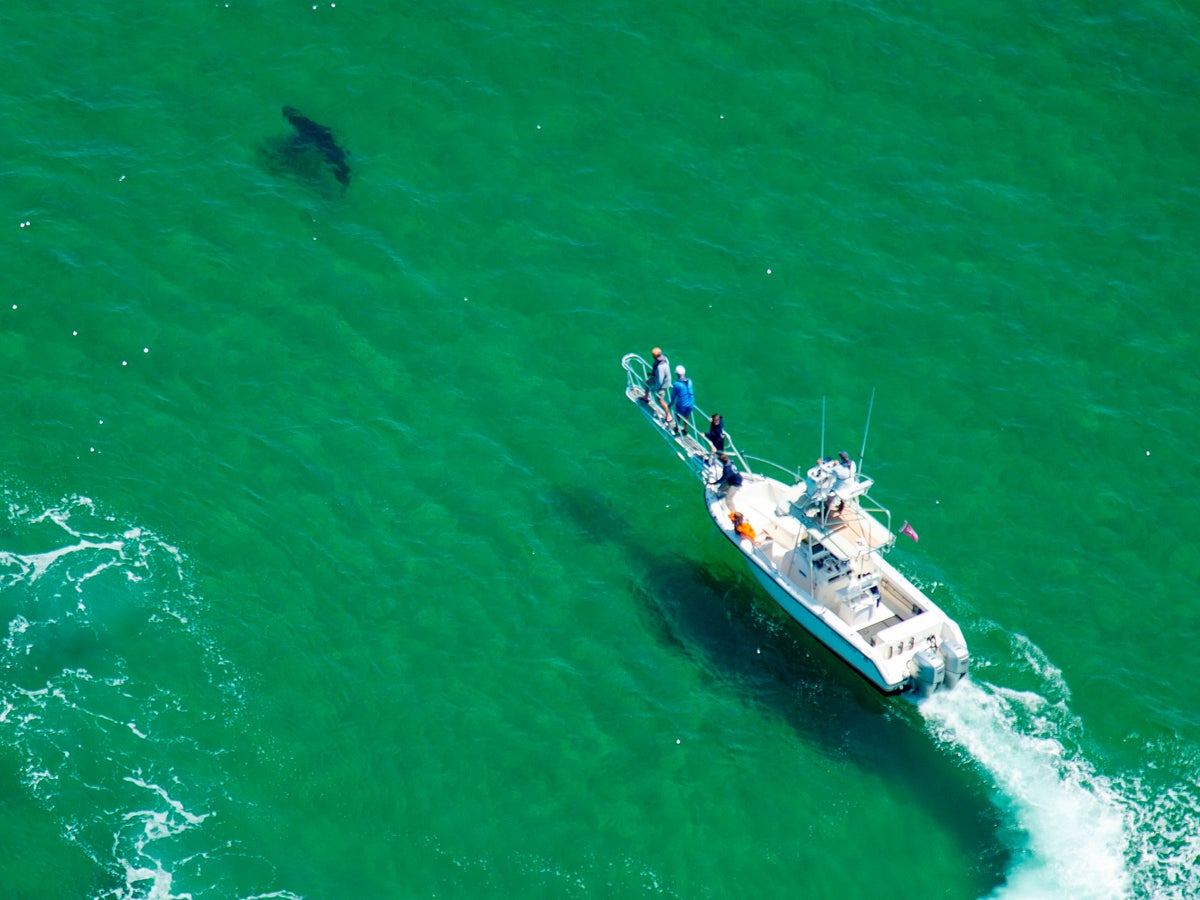 More than 30 great white sharks have been spotted off the Massachusetts coast off Cape Cod in the past two days, leading to beach closures.
As many as 14 sharks were spotted on Aug. 2 and 16 on Aug. 3, according to the Atlantic White Shark Conservancy's Sharktivity app.
Four great white sharks were spotted near Chatham Harbor on Wednesday and a hammerhead shark was spotted near the Nantucket shoreline.
Hammerhead sharks weigh about a thousand pounds and are usually found in warmer waters.
The National Oceanic and Atmospheric Administration said in January this year that a new study found that "tiger sharks are more likely to migrate to northern latitudes and expand their ranges further north as a result of ocean warming. These changes make them more vulnerable." for fisheries".
Researchers found that the "large-scale northward expansion was driven by climate change".
Figures from the International Shark Attack Files show that hammerhead sharks have been behind 16 unprovoked attacks, while great whites have caused 354 and tiger sharks 138 unprovoked attacks since the record began.
Boston.com reported that six different sharks were located eight times off Cape Cod by detection buoys.
On Aug. 2, 14 great white sharks were seen in the span of six hours near Cape Cod.
Lifeguards on Martha's Vineyard's South Beach told Patch that a shark was only five to ten meters from the shoreline, forcing the beach to be closed for two hours.
Likewise, Meadow Beach was closed for an hour after seeing a shark.
On July 30 and 31, 23 sharks were spotted off the coast.
Shark biologist Dan Abel Coastal Carolina University told WSOC that sharks "go where there's food. They go where they can mate, which could be an area we don't know about."
"They go where they get their babies, and again, this is another area we're not sure about; and those are kind of the reasons why they migrate. To eat, mate and have babies," he added.
There have been at least 30 attacks in the US so far this year, with some experts concerned that the number could increase.
Tracking Sharks reported that 18 of the attacks occurred in Florida.
Within three weeks, six attacks were recorded in the waters of Long Island, New York, according to New York magazine.