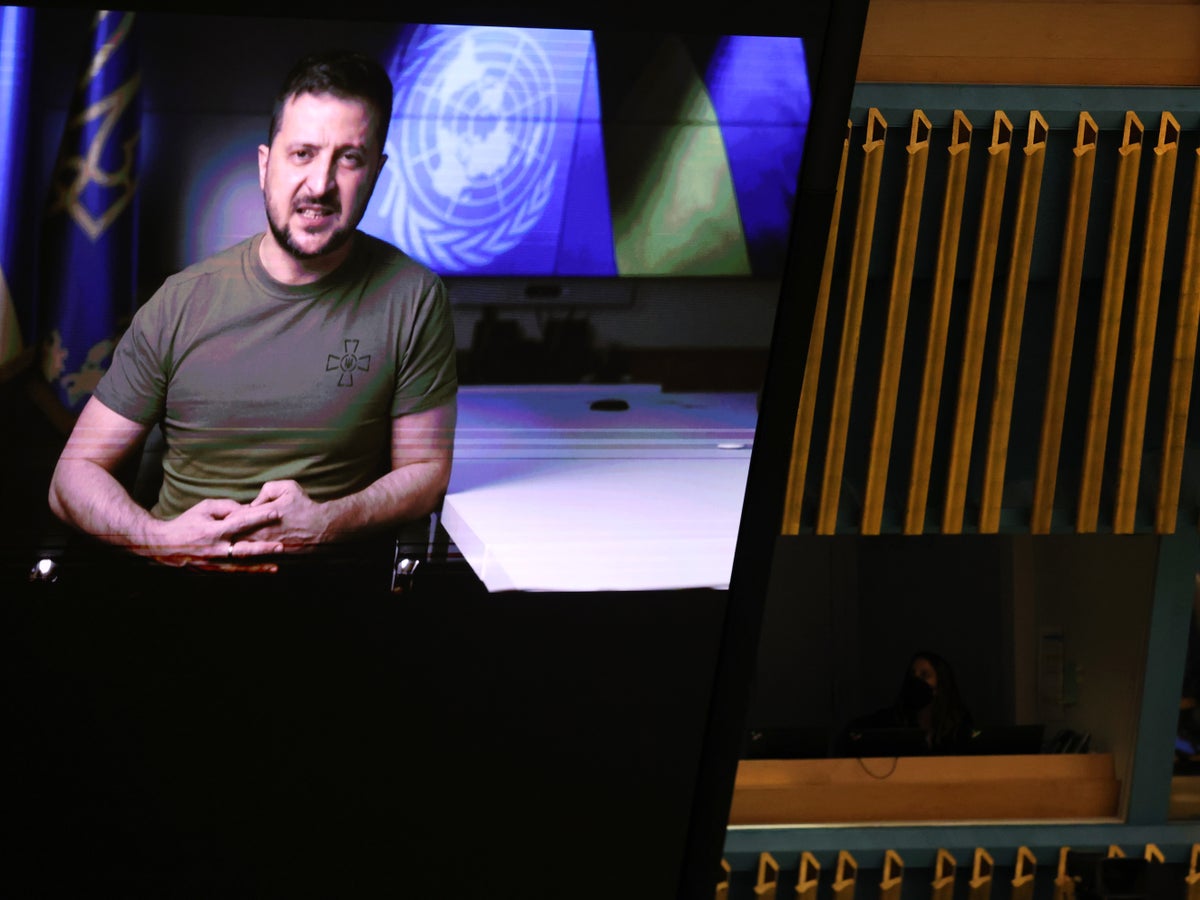 Full speech: Zelensky tells UN Ukraine is ready for 'real, fair and just peace'
Four Russian-backed areas in Ukraine, accounting for about 15 percent of the besieged country, are set to launch referendums today to break away from Kiev amid condemnation from Western countries.
The referendums, condemned this week by world leaders at the United Nations General Assembly as a Moscow-led "sham" will run from today until Tuesday, after which the Kremlin is expected to announce the annexation of the territories to the Russian Federation. .
Analysts fear that Russia will then use this to justify an escalation of its military offensive against Ukraine.
A day after Vladimir Putin announced the partial military mobilization of men in Russia's reserve forces, some 10,000 volunteers reportedly signed up without even waiting for their draft papers, the Russian General Staff said.
But there are also reports of attempts to evade a potential call, with prices for one-way flights from Moscow to the closest foreign locations soaring above $5,000 (£4,440), with most airfares completely sold out.
And late Thursday, Russia's foreign minister walked out of the UN Security Council after accusing Ukraine of Russophobia and neo-Nazis.
1663904791
18 Russian soldiers killed, howitzers and tanks destroyed – Ukrainian army
Ukrainian troops have killed 18 Russian troops, officials of the country's southern operational command said in the latest war update.
At least 18 Russian troops were killed, and three Msta-S and Msta-B howitzers, two tanks and two armored vehicles were destroyed on Thursday, the military unit said. The Kiev independent.
Arpan RaiSeptember 23, 2022 04:46
1663903359
Russia's mobilization movement shows regular army has crumbled – Zelensky
Volodymyr Zelensky has said Vladimir Putin's decision to announce a partial mobilization in Moscow is a "candid admission" of the Russian military's failure in its war against Ukraine.
"Russia's decision on mobilization is a frank admission that their regular army, which has been prepared for decades to take over a foreign country, has not been able to resist and has collapsed," he said in his overnight address on Thursday.
The war has invaded every Russian's home, he added.
"And now, as a result of the mobilization, for the majority of Russian citizens, Russia's war against Ukraine is not something on TV or on the Internet, but something that has entered every Russian home," said Mr Zelensky.
Arpan RaiSeptember 23, 2022 04:22
1663899000
Brits at home with families after 'traumatic experience'
In case you missed it, Britons released by Russian-backed troops in Ukraine thanked supporters as they flew back to Britain. All five are now all back home:
Britons detained by Russian troops in Ukraine return home after 'traumatic experience'
Five Britons were part of the prisoner swap
Jane DaltonSeptember 23, 2022 03:10
1663896000
Tears farewell for Russian reservists and families
Families have tearfully bid farewell to men who departed from military mobilization centers in Russia. Video footage from the East Siberian city of Neryungri showed men emerging from a stadium. Before boarding the buses, they hugged relatives waiting outside, many wept and some covered their mouths with their hands in grief.
A man held a child against the window of a bus for one last look. In Moscow, women hugged, cried and made the sign of the cross on men at another mobilization point.
A 25-year-old who only gave his first name, Dmitry, received a hug from his father, who told him "Be careful" as they broke up. Dmitry told Russian media company Ostorozhno Novosti that he did not expect to be called up and taken away so soon, especially since he is still a student. "Nobody told me anything in the morning. They gave me draft message to come here at 3pm. We waited 1.5 hours, then the officer on duty came and said we are leaving now," he said. "I was like, 'Oh great!' I went out and started calling my parents, brother and all my friends to say they are taking me."
Jane DaltonSeptember 23, 2022 02:20
1663893000
How Western Allies Helped Secure Britain's Release
Months of secret international negotiations lay behind the release of captured British and Ukrainian fighters.
Also, more than 200 fighters of the Azov battalion were released.
In return, Moscow received 55 prisoners, including Vladimir Putin's friend Viktor Medvedchuk, Kim Sengupta writes:
How Western Allies Helped Secure the Release of Britons Detained in Ukraine
Saudi Arabia's Crown Prince and others played a role in the key prisoner swap, Kim Sengupta explains. from
Jane DaltonSeptember 23, 2022 01:30
1663890000
Why Moscow is calling referendums
Four occupied regions in Ukraine will vote Friday in Kremlin-designed referendums on whether or not to join Russia. This is why:
EXPLANATORY STATEMENT: What is behind referendums in occupied Ukraine?
Four occupied regions in eastern and southern Ukraine will vote on Friday in Kremlin-designed referendums on whether or not to join Russia, setting the stage for Moscow to annex the territories in a sharp escalation of the nearly seven-month war.
Jane DaltonSeptember 23, 2022 00:40
1663887002
Traffic jams at border crossings amid 'panic' for tickets
Long traffic jams have developed at the border crossings from Russia to Georgia as Russian men continued to try to flee the country.
A news site in Russian gave a list of "where to run away from Russia right now".
A Russian man, who mentioned his name only as Vasily, traveled with his wife, teenage daughter and six suitcases to Istanbul, Turkey.
"The mobilization was inevitable because there was a shortage of human resources. I'm not worried because I'm 59 years old and my son lives abroad," he said.
A truck driver crossing the Russian-Kazakh border on Thursday said he saw unusually busy traffic from the Russian side.
A tourism industry source said there was desperation as people looked for plane tickets from Russia.
"This is a panic question from people who are afraid they won't be able to leave the country later – people buy tickets and they don't care where they fly," the source said.
Jane DaltonSeptember 22, 2022 23:50
1663884002
Exodus reports exaggerated, Russia insists
Russia says reports of a mass exodus from the country are exaggerated.
President Putin's press secretary Dmitri Peskov said: "The information about the hype on airports and the like is very exaggerated… There is a lot of false information about this. We have to be very careful about this so as not to fall victim to false information about this matter."
Russian news agencies reported that 10,000 people volunteered to fight even before their draft papers arrived, citing the Russian General Staff.
President Putin's defense minister says the mobilization of the reserve is intended to employ about 300,000 men.
Anti-war protests in 38 Russian cities led to more than 1,300 arrests on Wednesday, an observation group said.
Some detainees had been ordered to report to recruitment agencies on Thursday, the first full day of military service, independent news outlets said. More rallies are scheduled for the weekend.
Jane DaltonSeptember 22, 2022 23:00
1663881002
UN chief warns of 'endless' horror and bloodshed
The UN Secretary-General has warned that the latest developments in the war in Ukraine are one step closer to an "endless cycle of horror and bloodshed".
Antonio Guterres called Russia's nuclear threats against the West "totally unacceptable" at the United Nations General Assembly in New York. Look here:
UN chief considers Russian 'disturbing' nuclear threat 'totally unacceptable'
Antonio Guterres labeled Russia's nuclear threats against the West as "totally unacceptable" at the United Nations General Assembly in New York. The UN Secretary-General warned world leaders that the latest developments in the war in Ukraine are "dangerous and disturbing", and one step closer to an "endless cycle of horror and bloodshed." "The idea of ​​a nuclear conflict, which was once unthinkable, has become a subject of debate. This in itself is totally unacceptable," he said. Guterres also considered the idea of ​​a referendum in occupied parts of Ukraine a "violation of international law." Sign up for our newsletters.
Jane DaltonSeptember 22, 2022 22:10
1663878002
Flight tickets from Moscow are sold out, even at record prices
Prices of some plane tickets from Moscow have skyrocketed as Russian men continued to head to the country's borders after Vladimir Putin ordered a partial mobilization.
Airfares from the capital to the nearest foreign locations soared above $5,000 (£4,440), and most plane seats sold out completely in the coming days.
Traffic at border crossings with Finland also continued to increase, and social media groups popped up with advice on how to get out of Russia.
"War is terrible," Sergei, a Russian who refused to give his last name, told Reuters when he arrived in Belgrade, the Serbian capital. "It's okay to be afraid of war and of death and things like that."
A Russian man who gave his name to Alex said he left Russia in part because of the mobilization.
"The partial mobilization is one of the reasons I'm here," he said. "It seems to be a very bad move, and it could lead to a lot of problems for many Russians."
He said he felt that not many Russians would want to be sent to fight.
Jane DaltonSeptember 22, 2022 21:20