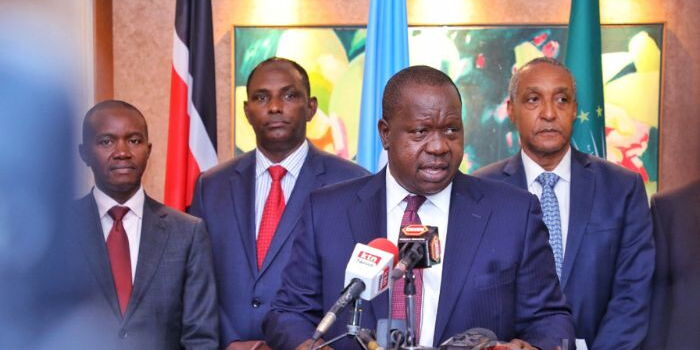 President William Ruto has decided to curtail the powers of cabinet ministers who served in the government of former head of state Uhuru Kenyatta.
The departing CSs must ask the president for permission before traveling abroad – regardless of the nature of their visit.
A statement signed on Monday, September 19, signed by public service chief Joseph Kinyua, also instructed the CS and the chief secretaries (PS) to remain in office until their replacement is appointed by the fifth president.
He noted that the directive was in place to allow for a smooth transition from the fourth regime to the fifth regime, which has been in place for just over a week.
"It is therefore reiterated that the terms of office of the present Cabinet Secretaries and the Chief Secretaries shall only expire upon the appointment and swearing in of a successor to the Cabinet Secretary or the Chief Secretary, as the case may be, by the Head of State and Government; or upon a reorganization of Government by His Excellency the President who impairs a particular role.
"Foreign travel by cabinet secretaries and chief secretaries will continue to be suspended unless the head of state and government approve," the statement said.
Kinyua further limited ministerial actions during the transition period to general administration only and
management of the ministerial portfolio.
For example, CSs were also prohibited from appointing members of the board of directors of state-owned enterprises or government agencies, as well as bringing about ministerial reshuffles or new appointments to any ranks within ministries and state departments.
"Ministry, state departments, and state agencies (MDAs) will not issue new policy statements unless authorized by THEY the president.
"Ministries, State Departments and State Agencies (MDAs) will not make payments exceeding Ksh 50 million without the prior approval and verification by The National Treasury," the statement added.
More to follow…