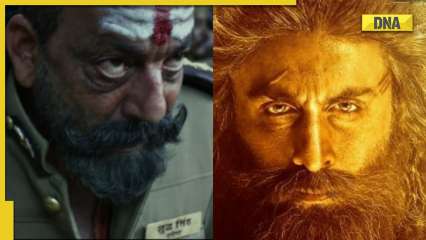 Shamshera Teaser Released: The official teaser featuring Ranbir Kapoor, Sanjay Dutt and Vaani Kapoor of Shamshera is now out. YRF on Wednesday unveiled the first teaser for the highly anticipated period drama Shamshera, which also happens to be Ranbir's comeback film after a nearly four-year hiatus. The actor's last release was Sanju in 2018. In Shamshera directed by Karan Malhotra, Ranbir Kapoor plays a quintessential larger than life Hindi film hero for the first time in his career.
The foreground of the nearly minute-and-a-half-long teaser may remind many of Mad Max: Fury Road, or closer to home of the Baahubali scene where subjects are abused. Then comes Sanjay Dutt, who plays the role of authoritarian general Shudh Singh, with a wild laugh, enjoying the mistreatment inflicted on his subjects. This is followed by a back shot of Ranbir on horseback and visuals of cavalry on a battlefield nearly engaged in war. Next, a close-up side profile shot of Ranbir on horseback is revealed, giving fans a glimpse of his deadly avatar. He is projected as some kind of savior, leading the charge and wielding a pickaxe against his enemies.
The teaser also gives fans a glimpse of the fictional town of Kaza where the film is supposed to be set.
The teaser looks awesome and fans praised it for its visual effects. Some even declared the film to be a blockbuster hit, mentioning that the film aimed to beat RRR and KGF Chapter 2 at the box office.
Check out the teaser below:
Shamshera is the story of a man who became a slave, a slave who became a leader and then a legend for his tribe. He fights tirelessly for the freedom and dignity of his tribe. His name is Shamshera.
The high-octane, adrenaline-pumping entertainer is set in the 1800s in the heart of India. Ranbir will be seen in the role of Shamshera, while Sanjay tries out Ranbir's nemesis.
Produced by Aditya Chopra, Shamshera is set to be released in Hindi, Tamil and Telugu on July 22, 2022.
.