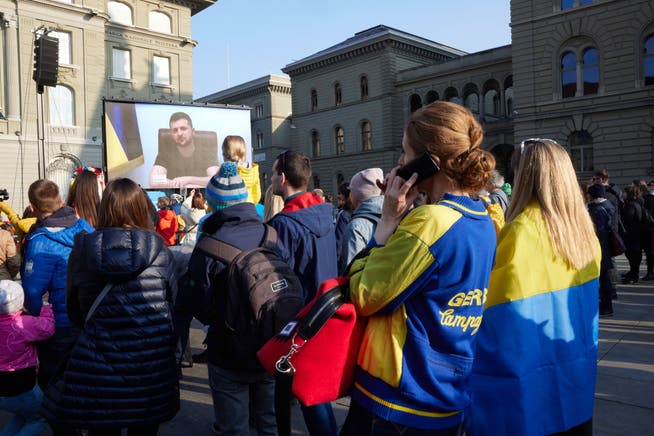 Second survey

Swiss fear of war in Ukraine wanes – tough measures continue to enjoy broad support
Mr. and Mrs. Schweizer are a little less afraid of the war in Ukraine. The harsh sanctions against Russia remain popular, even if they have negative effects on Switzerland.
120 days ago, Russia invaded Ukraine. In Switzerland, the sense of threat has now declined slightly compared to the outbreak of war, as shown by a second LINK survey. The situation is "still assessed as threatening", wrote the Institute for Market and Social Studies in a press release on Thursday. In the meantime, the will of the Swiss population to support Ukraine has not diminished. The concept of "cooperative neutrality" also continues to enjoy broad support among the population.
Specifically, four months after the outbreak of war, a large majority of respondents expressed concern that Russia might use chemical weapons (81%) or nuclear weapons (73%). Nearly two in three respondents (63%) fear that the conflict will lead to a third world war. And almost one in two people (48%) are worried about the escalation of the conflict into a major war, which could then also directly affect Switzerland.
the "habituation effect" sets in
According to LINK, it is striking that "despite these high numbers, concerns have in some cases decreased significantly compared to mid-March 2022". This cannot be attributed to a decrease in the perceived risk of escalation. "On the contrary: the probabilities with which the different scenarios are evaluated are surprisingly stable," writes the survey institute. They thus oscillate between 22% (extension of the war to Switzerland) and 63% (use of chemical weapons).
According to LINK, these results indicate "some habituation effect." Confronted daily with horrific images of war, respondents are still aware of the threat, but it frightened them less than three months ago when the first wave of surveys was carried out.
Fear of the economy takes center stage – policy support
At the same time, respondents have become aware in recent weeks that the war in Ukraine is also having an impact in Switzerland. In the most recent LINK survey, "a clear trend towards more negative financial effects on respondents personally can be observed" (+14 percentage points). While in March 58% of respondents said that the war could have a negative impact on their own finances, in June this figure was already 72%.
Meanwhile, also in June, a majority is ready to support economic sanctions and even other measures, writes LINK. Respondents are well aware of the negative financial consequences. Military measures, on the other hand, continue to be clearly rejected. A large majority of the Swiss population therefore supports the policy of the Federal Council. "However, there is a growing political divide," restricts the investigative institute.
For the second wave of the Ukraine representative survey, LINK surveyed 1,216 people living in Switzerland online from June 3-10. The first wave of surveys took place between March 17 and 21.