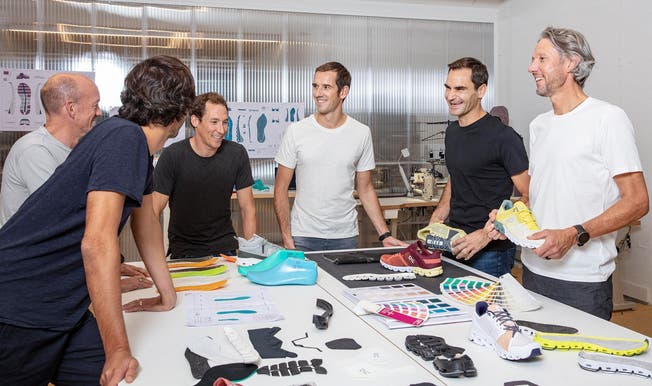 "Parade Square"

The questionable arithmetic skills of multimillion-dollar bosses, the small party publicity in the Migros pool – and where Joker still pokes Putin
A look at the week's slightly different economic stories: the latest "Paradeplatz" reports.
There are statements that age badly: "It's important for me to be able to walk in nature with On shoes. It is clearly above material desires," said Marc Maurer, co-boss of On, to CH Media. Shortly after, it became public knowledge that the five bosses and founders of the running shoe company, in which Roger Federer involved, paid insane salaries totaling 83 million Swiss Francs – and topped every banker and pharmaceutical executive in the country.
Opposing interlocutors Urs Gredig now justified Maurer and together with the founders of On David Allman the windfall: the shareholders decided three years ago to award the entire On team a 4% share in the company's capital gain. The fact that such a high number would come out exceeded their expectations. Now, of course, we hope shoe sellers will make fewer miscalculations in the actual transaction.
"You need an opponent. There is no campaign without opponents", said recently Thilo Bode, former boss of Greenpeace and Foodwatch of the "Zeit". The non-governmental organization also adheres to this mantra Audience eyes and immediately found 32 opponents: There are 32 Russian oligarchs with close ties to Switzerland, united to form an oligarch quartet with clear rules: Whoever wants to win must draw a "Putin" card as wild card. This trumps all oligarchs.
The issue of alcohol does not only affect Migros and its current and former executives, such as the president of Migros Ursula Nold, Former boss of Migros Herbert Bollinger or its predecessor Anton Scherrer, who webels for a yes.
From now on, politics are also involved: this week, the executive of the EPP party decided to say no. This is probably not without ulterior motives, since Migros has around 2.3 million members. If only a fraction of them found their way to the EPP, then it would be a great success for the National Councilor Lilian Studer presided over a small party.