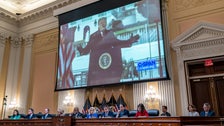 WASHINGTON — Donald Trump tried to sway the Justice Department into backing his plan to overthrow democracy and stay in power, but backed down when his own appointees there threatened to resign en masse, the January 6 committee began to testify on Thursday.
Trump had wanted to install a department lawyer willing to lie for him in letters to half a dozen states where Trump had narrowly lost to Democrat Joe Biden. The letters falsely claimed the department had found evidence of voter fraud and urged state officials to overturn Biden's victory.
"In fact, Donald Trump knew it was a lie," said Wyoming Republican Liz Cheney, the committee's vice chair.
Because Acting Attorney General Jeffrey Rosen refused to send the forged letters, Trump wanted to fire him and replace him with Jeffrey Clark, who headed the department's environmental division but whose readiness to respond to Trump's demands was brought to his attention by the Republican Representative from Pennsylvania. Scott Perry.
In a White House meeting with Trump, however, Rosen's deputy, Richard Donoghue, told Trump that he and other senior leaders would all resign in protest if he continued. Trump eventually backed down.
"He wanted the Justice Department to help him legitimize his lies," said committee chairman Bennie Thompson, a Democrat from Mississippi.
Testifying Thursday is Rosen, Donoghue and Steven Engel, the former chief of the department's legal counsel office.
Prior to Trump's overt attempt to install a pro-coup official to lead the department, he had repeatedly pressured his hand-picked attorney general, Bill Barr, to continue investigations into the "fraud" that would help him delegitimize election results in a handful of states. narrowly lost.
Barr — who on numerous occasions had zealously defended Trump's actions, including when he falsely stated that Special Counsel Robert Mueller's investigation had effectively cleared the president of wrongdoing — told Trump that his post-election claim was misplaced, he told committee investigators.
"I said, you know, it has to be the campaign raising this with the state," Barr said in videotaped testimony revealed during the June 13 committee hearing. "The department does not take sides in elections, and the department is not an extension of your legal team."
Thursday was the fifth in a series of public hearings the select committee has held this month to detail Trump's bid to stay in power that led to the Jan. 6 attack he instigated on the US Capitol. The committee originally planned to conclude hearings in June, with a final report later this summer or fall. But Thompson told reporters Wednesday that with so much new information coming to the panel in recent days — from the new video of interviews with Trump himself to more documents from his White House from the National Archives — the committee would pick up the slack. hearings in mid-July after Congress "Conjour du 4 Juillet.
Trump, despite losing the election by 7 million votes nationally and 306-232 in the Electoral College, became the first president in more than two centuries of elections to refuse to hand over power peacefully. His instigation of the Jan. 6 assault on the Capitol — his latest attempt to stay in power — killed five people, including a police officer, injured 140 other officers and led to four police suicides.
Nonetheless, Trump remains the dominant figure in the Republican Party and is openly talking about running for president again in 2024.
In statements on his personal social media platform, Trump continued to lie about the election and the work of the Jan. 6 committee, calling it a "hoax" similar to previous investigations into the acceptance of Russian aid. by his 2016 campaign and his attempt to extort Ukraine into helping his 2020 campaign.
.