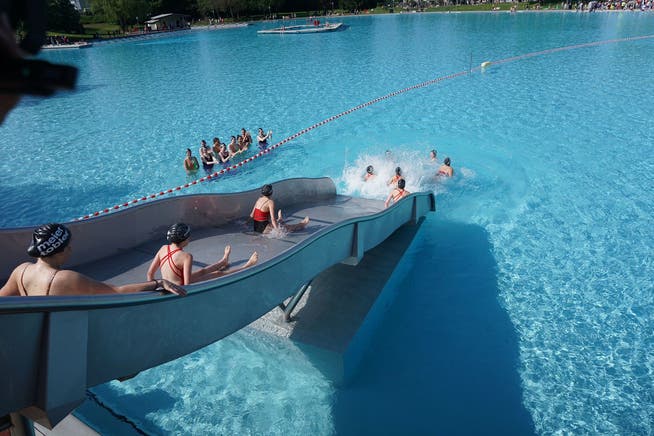 Weyerli

After a year and a half of renovation: the largest swimming pool in Switzerland is open again
The "Weyerli" was closed for a whole summer. The largest outdoor swimming pool in Switzerland west of the city of Bern has reopened after a total renovation. And should be warmer in the future.
The largest swimming pool in Switzerland is once again in Bern. Yes, maybe even the biggest bath in Europe. Nobody knows exactly, or rather it is the definition of the term Badi.
However, one thing is clear: On Saturday, the completely renovated outdoor swimming pool of the Weyermannshaus was officially reopened after a construction period of one and a half years and was thus handed over to the public. The city writes as builder and operator of the freely accessible facility on Twitter. The Weyerli, as everyone in Bern calls the swimming pool, now has a waterslide.
Weyermannshaus outdoor swimming pool: Mayor Alec von Graffenried and Sports Director Franziska Teuscher have officially reopened the renovated Weyerli. Visitors can explore the pool with the new wide slide until 7 p.m. today. More info: https://t.co/fnb6N4WAMm pic.twitter.com/Rgku2TxkzY

— City of Bern (@Bern_Stadt) May 14, 2022
In addition to a general overhaul, the leaky pool has had a new surface in the last 18 months. The swimming pool has thus been preserved in its former shape and dimensions. More recently, the swimming pool, built in 1958, lost around 300 cubic meters of water per day and was generally a cool affair due to the constantly supplied fresh water. That should change now, or Weyerli will warm up again.
After a year and a half of work, the renovation of the Weyermannshaus outdoor pool is complete…
keystone
In addition, the outdoor swimming pool now has a modern water treatment system. Changing rooms and showers have also been repaired. The renovation was completed in time for the bathing season which opened on Saturday, as the city informed the media during the week. At approximately CHF 35 million, the construction costs are well below the approved construction loan of CHF 48 million.
While some outdoor swimming pools in Switzerland announced summer a week ago – and sometimes even earlier – the capital's bathing season begins on Saturday in all outdoor swimming pools. (sat)