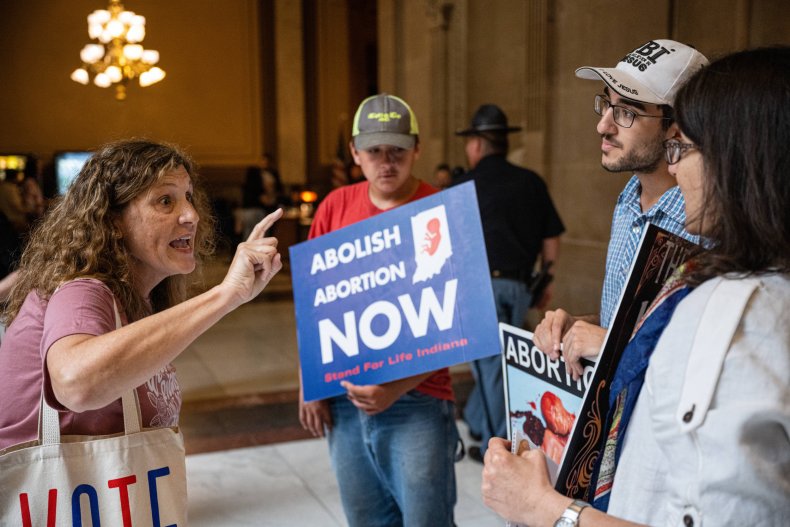 Indiana is the first state in the nation to introduce new legislation restricting access to abortion after the landmark U.S. Supreme Court ruling in Dobbs v. Jackson Women's Health Organization.
Republican Governor Eric Holcomb signed the new law on Friday after passing the GOP-controlled state house without Democrat support, while nine Republicans also opposed it, arguing it was either too strict or not strict enough.
Holcomb and anti-abortion proponents welcomed the legislation, but it has been condemned by Democrats and abortion rights supporters.
Here's a look at how Indiana's law will work.
When will the law come into effect?
Indiana's new abortion ban was passed by the state house by a vote of 62 to 38 and the state Senate by a vote of 28 to 19 and was swiftly signed by Governor Holcomb, but will not go into effect until September 15.
The state passed the bill after the U.S. Supreme Court overturned the landmark 1973 abortion rights rulings Roe v. Wade and from 1992 Planned Parenthood v. Casey in an opinion issued on June 24.
What are the exceptions?
The new law is an almost complete ban on abortion in Indiana, but includes certain exceptions and is less restrictive than some anti-abortion proponents would have liked.
The law allows abortion for rape or incest up to 10 weeks after conception. Victims of rape or incest are not required to sign a notarized affidavit confirming that they have been assaulted, which was previously suggested.
Abortions will also be allowed to protect the woman's life and if the fetus has a fatal abnormality.
Will abortion clinics close?
Recently passed legislation requires abortions to be performed only in hospitals or outpatient clinics owned by hospitals. This basically means that abortion clinics in Indiana have to close because they lose their license.
Doctors also risk losing their medical license if they perform an illegal abortion or fail to submit the required paperwork. That part of the law is stronger than Indiana's previous legislation that said doctors "may" lose their license under those circumstances.
reactions
Governor Holcomb praised the new legislation in a statement issued shortly after signing the bill, saying he had "clearly stated that I would be willing to support legislation that makes progress in protecting life" after he passed the law. had signed. roe was overthrown.
The governor said he was "personally proud of every Hoosier who came forward to boldly share their views in a debate that is unlikely to end anytime soon. For my part as your governor, I will continue to keep an open ear."
Indiana's Democratic Party, on the other hand, said the law is "the worst form of government oversight and will endanger the lives of women and little girls across the state."