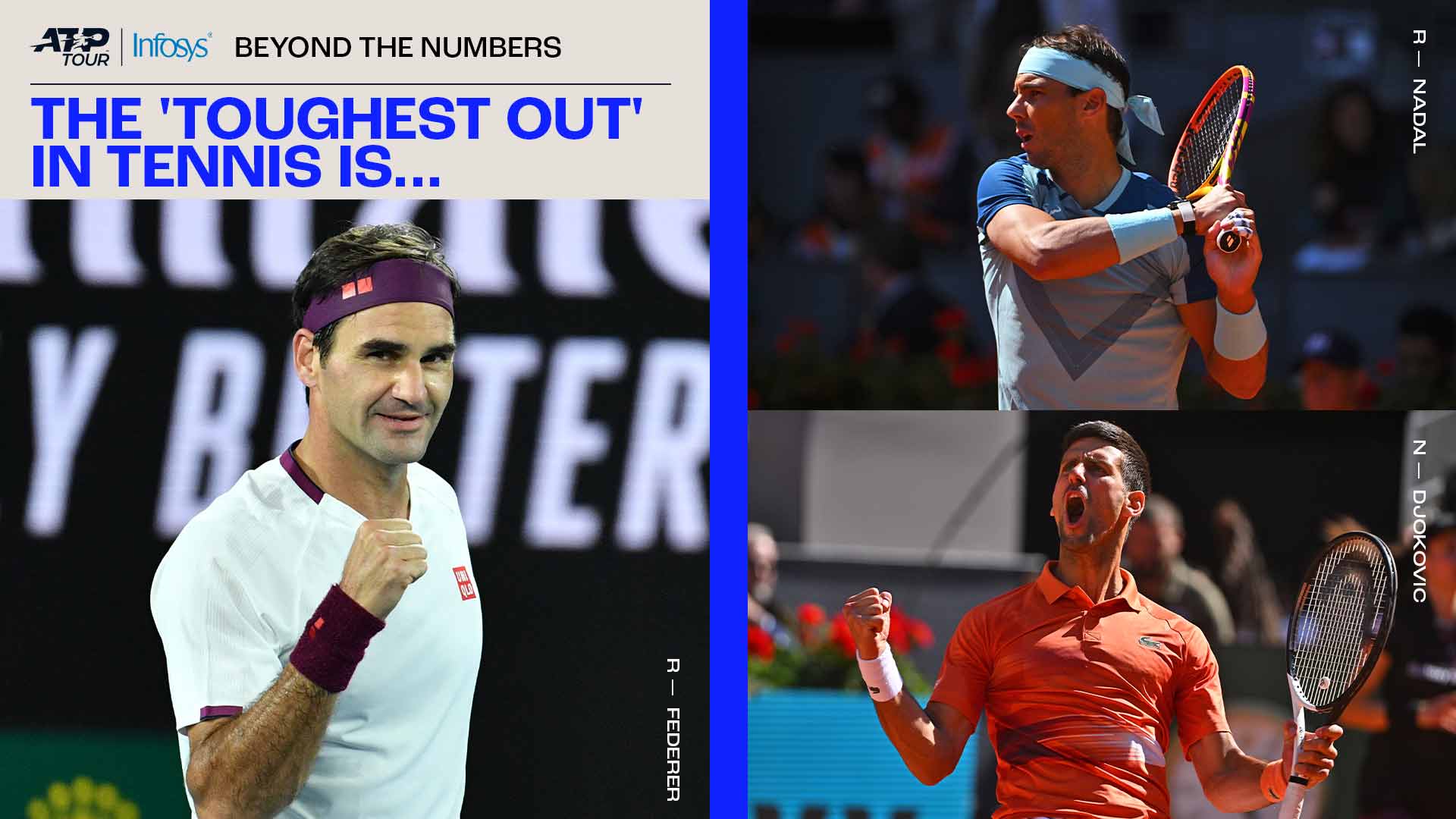 Tennis is a 55-45 sport.
An Infosys ATP Beyond The Numbers analysis of match winners versus match losers identifies that match winners win an average of 55 percent of points in a match, while match losers still accumulate a healthy 45 percent of total points played. The dataset includes 464 players who have competed in 100 or more matches in their career from the 1991 season when official match statistics were first recorded.
When analyzing only match winners, Rafael Nadal stands at the top of the tree as the most dominant player in our sport for the past 30+ years. When Nadal wins his matches, he consistently creates a greater margin of victory than any other player. The top three players with the highest percentage of points gained from winning matches are listed below.
Percentage of points won by match winners
1. Rafael Nadal = 56.40%
2. Novak Djokovic = 56.12%
3. Roger Federer = 55.91%
It's fascinating to see the "Big Three" grouped together at the top of the leaderboard, all within a percentage point of each other.
If you look at the other side of the coin at game losers, Federer is the player who is essentially the "hardest" in our sport. In a losing effort, he has consistently won more points than anyone else on the Tour.
Percentage of points won by match losers
1: Roger Federer = 47.57%
T2: Richard Krajicek = 47.31%
T2: Milos Raonic = 47.31%
Federer leads this list of two major servers in Richard Krajicek and Milos Raonic, who came in second. One assumption that can be made is that a large server will help you keep matches closer than being a solid returner. That theory gains support when you consider other major servers such as Todd Martin (47.19%), Pete Sampras (47.15%), Ivo Karlovic (47.06%) Andy Roddick (46.91%), Stefanos Tsitsipas ( 46.88%) and Greg Rusedski (46.85%) among the top 10 players in this category.
First-Serve Analysis
Match winners won a dominant 76 percent of first serve points, while match losers still averaged a respectable 67 percent of first serve points in defeat. Goran Ivanisevic (85.56%) was most dominant in the match-winner column, while Karlovic still managed to score 79.97 percent of his points after his defeat.
Second-Serve Analysis
Australian lefty, Wayne Arthurs, led the Match Winners table, winning a whopping 60.45 percent, while the rest of the players in the dataset won 55.12 percent of their second serve on average. When games were lost, only John Isner (50.95%) and Arthurs (50.57%) managed to break the 50 percent barrier for second serve points won.
Overview
A defeat in tennis can be disappointing and draining. Often times, players have trouble even pointing out where things went off the rails or what part of their game broke to contribute to the loss. But truth and inspiration can be found in the match analysis, which shows how far you really are from your opponent.
A good way to think about winning and losing in tennis is that every player who walks onto the court wins at least 45 percent of all points.
The real battle is on the remaining 10 percent.